F1 in Schools Dragster v2.0 CFD Analysis
Submitted by symscape on March 3, 2010 - 10:15
After reviewing the Caedium RANS Flow results posted in "CFD Analysis of an F1 in Schools Dragster," Brett Sizeland, Basilisk Performance team's chief designer, has been busy updating his F1 in Schools CO2 dragster design. Using the same geometry preparation process, physics setup, and post-processing, all within Caedium's unified simulation environment, we were able to rapidly perform the new simulation and extract the flow results presented here.
F1 in Schools v2.0 Dragster
Physics
The flow conditions and turbulence model were identical to the previous case:
Free-stream air speed and moving-ground speed = 22 m/s
Wheel rotation speed = 16,307 rpm = 97,804 deg/s
CO2 jet speed (assuming nozzle diameter = 4 mm) = 154 m/s
k-omega SST
Results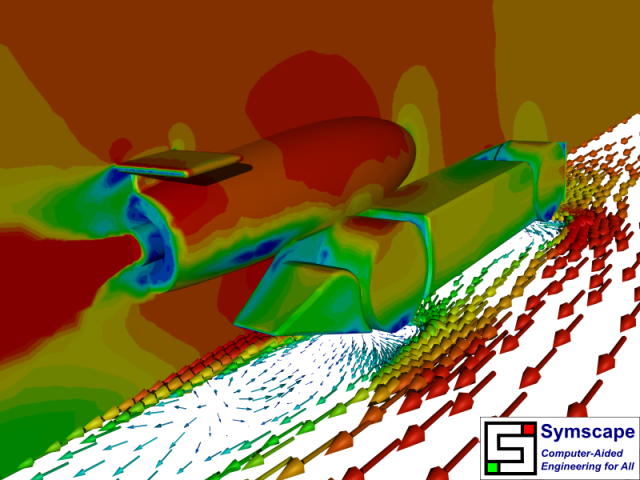 Rear View of Velocity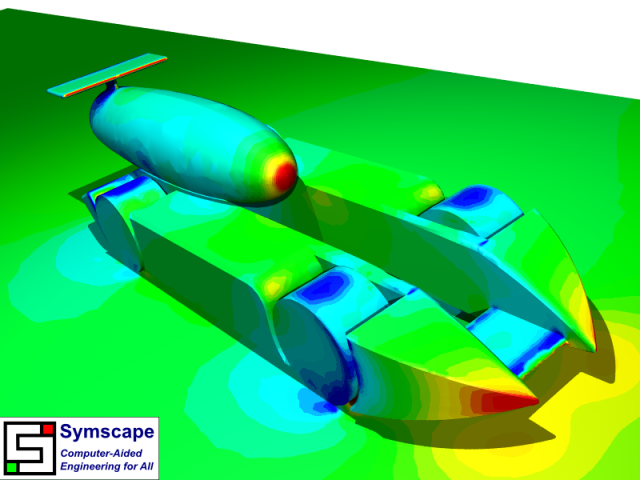 Front View of Pressure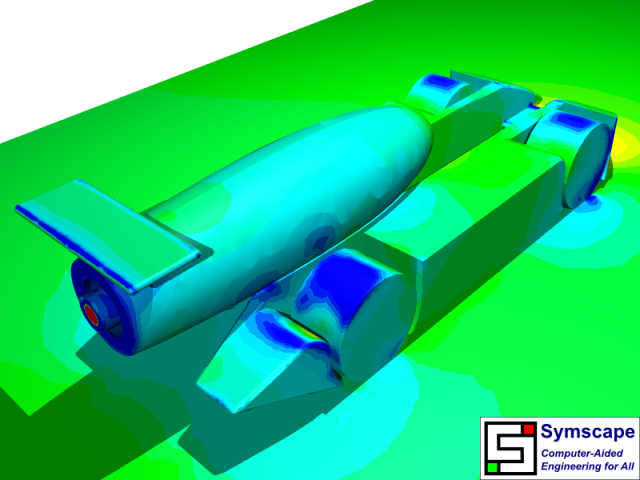 Rear View of Pressure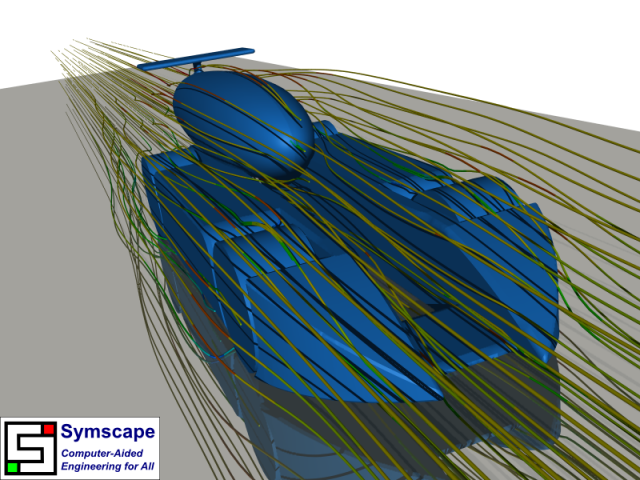 Front View of Streamlines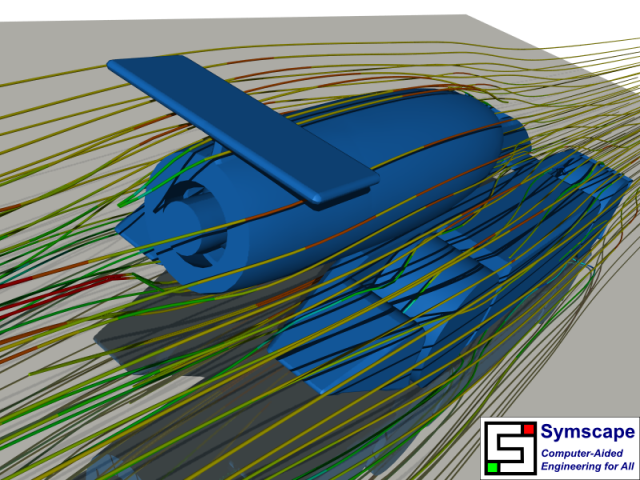 Rear View of Streamlines
Drag and lift monitors were created in Caedium for the car, and a comparison with the previous simulation results is shown in the table below:
| | | |
| --- | --- | --- |
| Quantity | Previous Design | Current Design |
| Drag (N) | 0.332 | 0.318 |
| Lift (N) | 0.06 | 0.2 |
Conclusion
The new dragster design has a much smoother flow around the wheels when compared to the previous design, as shown by the velocity vectors and streamlines. This improvement likely accounts for the lower drag of the new design.
Interestingly the lift of the new design is significantly higher than the previous design. This shouldn't be a problem as long as it is significantly less than the weight of the car in order to avoid the car taking off. The extra lift may be a benefit, as it will reduce the frictional forces (which are proportional to the weight of the car) between the wheels and the ground.
Try For Yourself
The sym project file for this study can be viewed in Caedium or you can investigate this case yourself using our RANS Flow add-on.
The most convenient way to view and edit this case is to use our Professional add-on that combines all the add-ons used during this example.