F1 in Schools World Finals and Caedium CFD Simulations
Submitted by symscape on November 4, 2010 - 08:36
After winning the Australian F1 in Schools title in March, Basilisk Performance went on to the F1 in Schools World Finals held September 20-22, 2010 in Singapore. Brett Sizeland, the team's chief designer, again turned to Caedium CFD simulations to help guide the aerodynamic design of the car.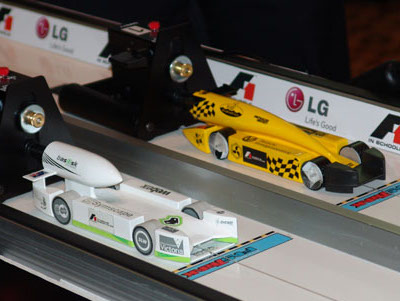 Basilisk Performance CO2 Dragster: Left, white car
Results
The team had high hopes of winning, so they were a little disappointed with 5th overall out of 25 teams. However, in recognition of Brett's design skills, the team won the best engineered car, and in recognition of their marketing skills they also won the best portfolio award.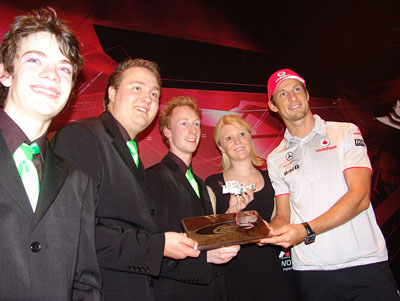 Jenson Button presenting awards to Basilisk Performance
In the battle for The Ashes, mimicking the cricket match of the same name played between England and Australia, Basilisk beat out the other Australian and English teams in a knockout tournament. So Brett and his team took home the urn with the ashes of the English and Australian cars from the 2007 championship.
Wrap Up
More details on the CFD simulations performed with Caedium can be found at "F1 in Schools World Finals CFD Analysis."
Basilisk Performance comes from Sebastopol College in Ballarat, Victoria and the team members are (left to right in photo below):
Aidan Cowie - Team Manager
Ben Kersten - Resources Manager
Brett Sizeland - Design Engineer
Keira Schroeders - Graphic Designer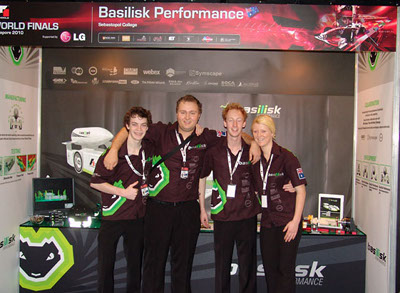 Basilisk Performance Team and Booth
The World Finals marks the end of Basilisk's participation in F1 in Schools, given that it's time for the team members to graduate and, who knows, possibly end up in a real F1 team. Brett is passing on his knowledge in a new role as mentor to a junior F1 in Schools team called Light Speed Racing. They recently won a regional Australian F1 in Schools heat and therefore qualified for the Australian national championships to be held in March 2011.