January 2010
Submitted by symscape on January 19, 2010 - 14:16
It seems like a short month, given the holiday season and my trip to Florida to present at the AIAA ASM conference. However, I did manage to jump back on the blog wagon with three posts this month. Read on for my trip report and my blog teasers.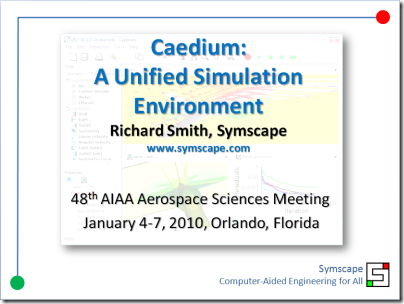 AIAA ASM 2010 First Slide
AIAA ASM 2010 Trip Report
With unusually cold (for Florida) temperatures, the 48th AIAA ASM conference took place at the Marriott World Center Resort in Orlando on January 4-7, 2010. The Resort is billed as the biggest Marriott in the world, and it needed to be to house the large crowd (~1500) of attendees.
Given the extensive choice of parallel sessions across four days, it took some considerable effort to plan a personal schedule. The profusion of papers on Computational Fluid Dynamics (CFD) was breathtaking - ranging from the laminar flow through microfluidic devices, through the separated flow over flapping hummingbird wings, to the hypersonic flow over atmosphere re-entry vehicles, such as NASA's Space Shuttle Orbiter. The message was loud and clear, that CFD is a mainstream analysis tool for every conceivable form of fluid flow.
I presented my paper (AIAA 2010-1322) entitled Caedium: A Unified Simulation Environment on Thursday, January 7 and it was well received judging by the follow up questions. Hopefully next year's conference will include independent papers using Caedium Professional's new state-of-the-art RANS flow capabilities - get started now with a free 30-day trial.
Blog
Below are teasers for my latest blog posts.
3D Interaction Controls Revisited
Is it time for new interaction controls in 3D modeling applications such as Computer-Aided Engineering (CAE) analysis tools? Interacting with 3D models on a 2D screen has always been less than intuitive. However, a recent flurry of innovation in human-computer controls holds out much promise for the future of 3D model control. Read more
Vertical-Axis Wind Turbine Drafting
A recent study into vertical-axis wind turbines (VAWTs) showed that their efficiency could be improved by arranging them into clusters to exploit drafting, i.e., placing VAWTs in the wake of other VAWTs. Read more
New F1 Team Uses CFD Only
As the 2010 Formula 1 (F1) season approaches, excitement is mounting as a new batch of teams enters the ring. One such team - Virgin Racing (VR) - is hitting the headlines with their radical approach of only using Computational Fluid Dynamics (CFD) to test and develop the aerodynamics of their car. Read more