What is a mesh?
Submitted by Alison Findon on January 19, 2007 - 09:04
Geometry-based analysis techniques require that the geometry be broken up into a discrete representation known as a mesh or grid, consisting of simple shapes called elements or cells.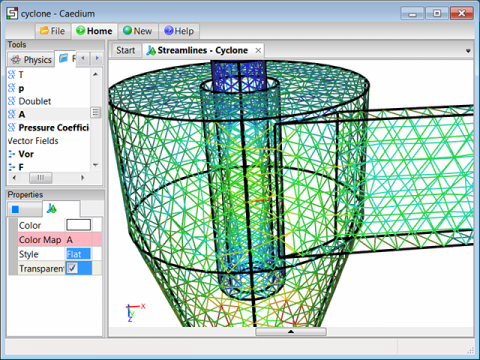 Triangle Surface Mesh in Caedium
Surfaces are split into polygons (e.g. triangles and quadrilaterals) and volumes are split into polyhedra (e.g. tetrahedra and hexahedra).
Algorithms that produce meshes are called meshers and there are three broad types:
Structured – typically producing hexahedra
Unstructured – producing mainly tetrahedra with some generating semi-structured prisms adjacent to walls
Cartesian – regular axes-aligned cells with a special treatment near walls
The density and size of cells within a mesh have a primary influence on the subsequent results obtained. Typically the higher the cell density and the smaller the cell size, the more accurate results tend to be. However, the higher accuracy comes with the penalty of slower turnaround time. Striking the right compromise between accuracy and turnaround time can be difficult.