April 2010
Submitted by symscape on April 8, 2010 - 09:34
Hope you can keep up with this month's high-octane newsletter - prepare for a thrilling race car theme. You'll find new examples of complex Computational Fluid Dynamics (CFD) simulations over different types of race cars, and discover how Symscape helped an Australian team win a national F1 in Schools championship. Also there is more coverage of our recent Caedium for the Mac release, and some light relief in our April Fools' Day story about Caedium on the iPad.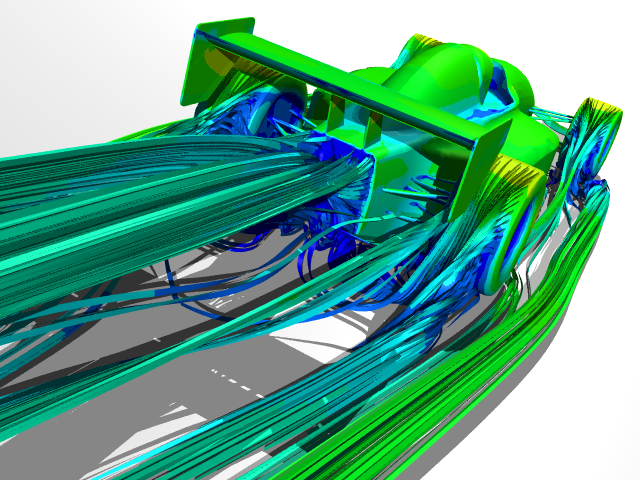 Caedium Open Wheel Race Car CFD Simulation
Examples
We've added two new RANS Flow examples - both simulate air flow, but over very different racing cars.
Open Wheel Race Car CFD Analysis
Open wheel race cars, such as those found in Formula 1 (F1), are characterized by complex aerodynamics. With geometry preparation, meshing, physics setup, solver control, and results extraction all combined in a single unified simulation environment, Caedium Professional is a good choice for assessing the aerodynamic performance of such cars using CFD. Read more...
Electric Race Car CFD Analysis
Many see the future of automobiles to be electric, so it's only natural to assume that the same may apply to motor racing. Luke Horsfall is one who believes electric race cars have a bright future, having set up Horsfall Racing (along with Laura Horsfall) to build electric race cars and race them in the F24+ electric race car class in the UK. The restrictions of this particular formula keep budgets and speeds relatively low (at least by F1 standards). Making best use of the limited power in F24+ is crucial, and that places the emphasis on low-drag, aerodynamic race cars. I bet you can guess where this is heading - this is territory ripe for Caedium's CFD capabilities. Read more...
News
If you want to hear news as it happens, then tune into our RSS News Feed. Here's what you've missed this month.
New Australian F1 in Schools Champions Helped by Caedium
CFD simulations performed using Caedium Professional helped Basilisk Performance become the 2009 F1 in Schools Australian National Champions. The air flow simulations provided 3D visualization of pressure and velocity, along with drag and downforce values. Chief designer Brett Sizeland then used these results to guide the aerodynamic design of the team's CO2 dragster in order to minimize its drag and deliver a well earned victory. Read more...
Blogosphere Embraces Caedium on the Mac
The recent release of Caedium for the Mac has attracted a number of enthusiastic blog posts based on the theme that Mac OS X is becoming a viable and appealing Computer-Aided Engineering (CAE) platform. Read more...
Blog
Below are teasers for my latest blog posts. Did you spot my April Fools' Day fake story? Of course you did...
April Fools - Caedium is not on the iPad
You probably guessed that yesterday was April Fools' Day and in the spirit of fake news we announced that our unified simulation environment, Caedium, was available for the eagerly awaited iPad. Well sorry to disappoint, but we don't have a version of Caedium for the iPad - at least not yet - who knows what the future holds though. Read more...
Caedium on the iPad
Following hot on the heals of the recent Caedium release for the Mac, Caedium will also be available on the iPad when it is released on Saturday (April 3, 2010). In a worlds first, iPad users will be able to perform CFD simulations from the comfort of their sofa on the worlds most "magical and revolutionary product at an unbelievable price." The iPad version of Caedium makes full use of the multi-touch iPad interface, which enables you to control the actual fluid in the simulation in order to guide it to the answer you desire. Read more...
Affordable Desktop CFD
Bigger is always better when it comes to CFD, right? Big computers, big simulations, big budgets - fine if you are a big aerospace company or a big F1 team. Though, it's not so good if you are a small business or a hobbyist who wants to perform CFD simulations within tight budget constraints on a desktop or laptop computer. Don't despair - we are here to help. It is Symscape's mission to provide Computer-Aided Engineering (CAE) tools for all. We provide affordable software for performing meaningful CFD simulations on desktop computers. Read more...