November 2007
Submitted by symscape on November 8, 2007 - 20:03
It was another busy month here at Symscape. We have prepared and released a minor Caedium update, added some Caedium usage tips and been featured in a Cadalyst article.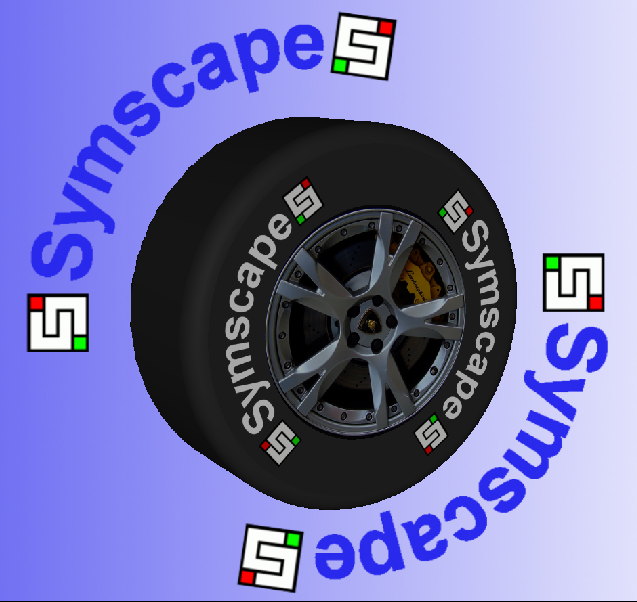 Image as a Background: See tips for details
Minor Caedium Update
The Caedium development team has been busy lately, what with last month's major Caedium update and now with a minor Caedium update this month. Our latest update makes it easier to activate free trials and paid subscriptions. We now offer an email product activation method for those behind restrictive firewalls, in addition to our existing Internet product activation method. The activation method selection is within a new product activation wizard accessed via the Help->Product Activation menu in Caedium.
New Caedium Tips
We've added a couple of new Caedium tips that provide an insight into lesser known Caedium features:
Use an Image as a Background - In Caedium, using an image as a background in either a View Window or a Plot is easy and looks great.
View a Mesh - Caedium doesn't force you to generate and view a mesh in an explicit simulation phase. However, sometimes it is useful to examine a mesh to diagnose simulation problems.
Cadalyst Article
Symscape and Caedium hit the headlines in an article by Jeffrey Rowe from Cadalyst entitled Analysis for the Masses with CAE 2.0. The article draws parallels between the Web 2.0 movement, typified by websites such as YouTube, and our Computer-Aided Engineering for All mantra.
Blog
Below are our latest blog posts since our previous newsletter. Click the titles to read the entire post.
Texture Mapping
Texture mapping is a simple technique to make a 3D model more realistic. It is also a great way to brand either a 3D model or an image with a logo. It is even useful for arranging multiple images within a 3D composite image.
Simulation for Illustration
Sometimes an accurate simulation of a realistic scenario such as the aerodynamics of a racecar, is too much. Sometimes all that is needed is a simulation that highlights a simple concept or idea - welcome to simulation for illustration.
Paper Airplanes
The Chinese are attributed with the invention in AD 105 of what we know today as paper. A good bet is that the first flying paper object soon followed as a screwed up paper ball flew toward a trash can. Recognizable paper airplanes appeared much later, with sightings coinciding with the first powered flight by the Wright brothers at the beginning of the 20th Century.
Flying Wind Turbines and Blog Action Day
Today (October 15, 2007) is Blog Action Day and upwards of 15,000 bloggers will cover subjects related to the environment. The aim is to raise awareness of environmental issues - this post is my contribution to the cause. Environmentally friendly, renewable energy generation is a theme I've covered in a number of previous posts ranging from wave energy to horizontal, vertical and micro wind turbines. Continuing this theme today I'm going to cover flying wind turbines.