Essentials Manual
Submitted by Alison Findon on January 17, 2011 - 19:49
Familiarize yourself here with the essential elements and associated terminology in Caedium.
For an overview of the Computer-Aided Engineering (CAE) analysis process, in relation to Caedium, see "Overview: From Geometry To Results."
View our screencast for an introduction to Caedium:
The Caedium Interface consists of the following components: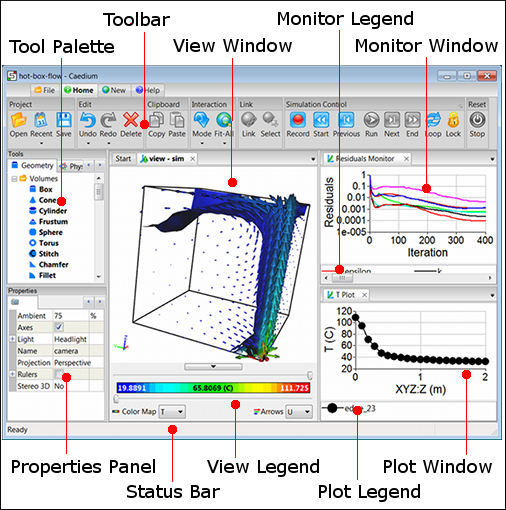 Tool Palette
The Tool Palette contains the tools you will need to:
Create geometry
Define physics
View simulation results
You can also create custom tools that are specific to your simulation, for example, a new substance or a new finish.
For more see "Tools".
Properties Panel
The Properties Panel provides access to the properties (text, numbers, or options) of any item you have selected in Caedium. For example, if you select Box in the Tool Palette, the Properties Panel will display the default dimensions of a box, which you can then edit. Each object in the View Window has properties associated with it, e.g., a face has a color and style of shading.
The Properties Panel is also used to display informational messages or error messages.
View Window
The View Window allows you to view the geometry and see the results of your simulation. You can zoom, pan, or spin the view, and select an object by clicking on it with the right mouse button. You can divide the View Window into four areas, each with a different view or perspective of your simulation.
For more see "Camera View Control and Entity Selection".
View Legend
The View Legend provides access to results you have generated for your geometry. The color bar shows the full range of values displayed in the View Window and allows you to interactively set the upper and lower threshold values for the contours displayed.
Plot/Monitor Window
A Plot/Monitor Window allows you to view multiple data series plotted as curves. You can customize the axes ranges and titles using the associated properties in the Properties Panel. Also, similar to the View Window, you can interactively pan and zoom the plot/monitor.
Plot/Monitor Legend
The Plot/Monitor Legend provides access to individual data series. You can customize the symbols and lines used to represent a data series through the associated properties in the Properties Panel.
Toolbar
The Toolbar provides standard tools (e.g. New, Save, Print). It also contains animation functions, View Window controls (pan, zoom, spin, select), Undo and Redo functions, a Busy indicator, and an Interrupt option.
Status Bar
The Status Bar, at the bottom of the window, displays tooltips for:
Buttons on the Toolbar
Properties in the Properties Panel
Tools on the Tool Palettes
Menu Bar
The Menu Bar contains standard menu functions, e.g., File, Edit, Help, along with animation options and controls for the View Window.