Multiple Views
Submitted by symscape on May 8, 2015 - 11:18
In Caedium you are not limited to a single 3D view of your simulation. In fact, you can create an unlimited number of views. Multiple views are useful when you have already configured a view, e.g., velocity arrows colored by velocity magnitude, and now you want to visualize something else, e.g., streamlines.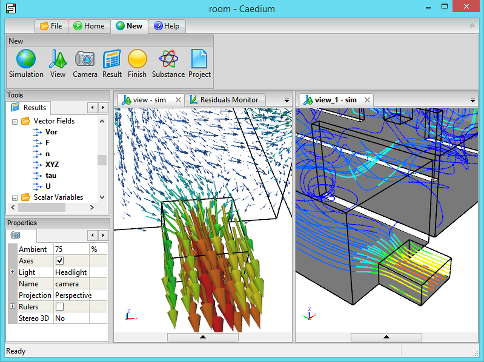 Two Views of the Same Simulation
Assumptions
Procedure
Start Caedium and either create or load a simulation.
Select a current 3D View Window by left-clicking anywhere in the window.
In the New Toolbar click the View button to create a new View Window (view_1) for the current simulation.
Configure the new view in the usual manner, e.g., from the Results Tool Palette drag and drop Vector Fields->U onto the flow volume to create iso-surfaces of velocity magnitude.